I love the thrill of the hunt. The hunt to find something that makes me happy when I'm home. I have recently found a couple of things that I love. Gleaming Renditions have beautiful trays for reasonable prices. I think at their price point, a lot of trays look a little obviously cheap, but Gleaming Renditions have done an excellent job of making it look like you paid a price. Especially since it's lacquered and it's from Etsy.
I bought this Raven Black 12 x 12 tray with a lacquered satin finish for my dining table and it makes my dining table look a little dressier. I'm just thrilled that it looks just like it does in this picture.
I have been debating on two shades of blue for my living room for some time. This is a beautiful shade of teal, but might be a little darker than I want.
This aqua is awesome, but then again is it too light for me? I might just need to make a gamble. I mean, at least trays are practical and everyone could use one…if I didn't like it, right?
Every trays needs accessories. I absolutely fell in love with Anthropologie's Faceted Gem Vases.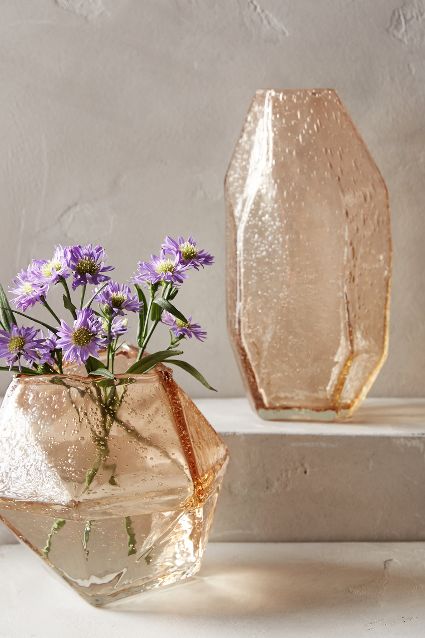 How gorgeous are these? Anthropologie called this shade pink. I don't think this is very pink. Not even in person. It's a very nice neutral with some color. I really liked the purple, but it didn't really go with my color scheme. And it would just about be the only purple thing I own. For some reason, the pink color only comes in a set of two. I think that's a shame because I would have loved for it to be accompanied by a little one the way other two colors come in a set of three.
Here is my little assembled tray. I apologize for the picture. My camera phone is all I have to work with right now. The huge cocktail shaker came from HomeGoods. I got my Bailey's Irish Cream glasses when I bought a Bailey's- call it a package deal. I got them at Total Wine, but my particular store does not seem to offer it anymore. I searched online, and you can find them here on Marketview Liquor.
Did you find anything that you liked this week?