Gray and Cream. I've never really been a fan of that color palate. It's a little too neutral for me, though a perfect opportunity to amp up your texture skills. Yet oddly enough, I woke up one morning and realized that I had that palette in a couple of places in my apartment. I had a creamy cabinet against gray walls and creamy pillows on my gray couch. I assure you, this was purely accidental. I had my creamy cabinet before moving into the apartment that came with gray walls and I had my creamy pillows well before we bought the gray couch.
Well, the damage is done now. My curiosity was piqued and I decided to explore how some rooms were decorated with this color palette.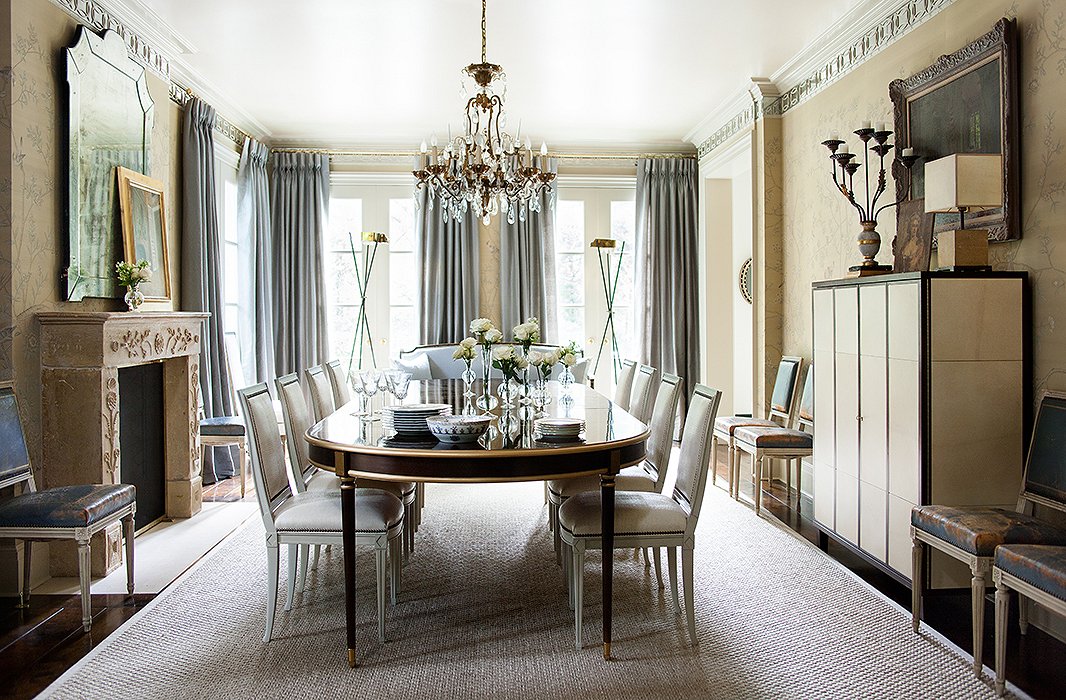 Did you know that grays and creams were a part of a Swedish country style called Gustavian? Gustavian III ruled in the 18th century, at which time the neoclassical grew popular across Europe. The photo above shows how we now use the colors in a contemporary way and was designed by Eleanor Cummings. Read more about it here on Color in Design.
This kitchen is another awesome example of mixing grays and creams. The cream really helps to warm up the space here. Also, how cool is that marble backsplash? I never would have thought to use it that way. Check out a few more kitchens here on The Kichn.
Robert Brown is another designer that I greatly admire. The color balance of the grays and creams are just in harmony. If he had used any more of that strong gray, it would have overpowered the creams in this room. I love the sophistication and the layered looks here. Click here for more pictures.
This is another bedroom with a very nice balance of grays and creams. This is actually pretty dreamy. Love the Christmas ornament touches by Centsational Girl. Click here for a tour of her home.
I love how light and airy this living room is. It's hard to tell from this angle, but the wall paper is creamy. With all the greenery and the bright sunlight, it almost feels summery. Click here for a tour.
I actually love this dining room by Dear Lillie. The gray on that wall is just perfect for the room and I love that there's a little bit of texture in the creamy chairs. I'm also digging that chandelier. This is like a glamour rustic style and I can get on board with that! Here's the link to see more of this room.
I still don't think gray and creams will ever be a go-to palette for me. Although a lot of designers will say you'll need to choose one or the other to go either cooler or warmer, these pictures show that it can be done together. I was not a believer before, but I know now that when done right, it can look great!
I searched long and hard for a cake in this color palette and it wasn't easy, but I finally found one by Fine Cakes by Zehra. You should check out her portfolio. She makes cakes so beautiful, I don't know how anyone could eat it.
What do you think? Is this one of your go-to color palettes? Have you ever used it?